Prague ZOO
The 4th Best ZOO in the World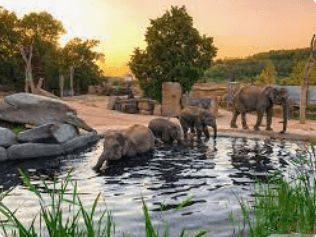 Ranked as the 4th best ZOO in the world, this remarkable establishment has a rich history dating back to 1881. Set amidst lush greenery, Prague ZOO is home to an impressive collection of 5,469 animal species, many of which are endangered or under special protection.
At Prague ZOO, we take pride in providing our animals with spacious and natural-like environments, ensuring their well-being and comfort. Each exhibit is thoughtfully designed to mimic their native habitats, allowing them to thrive and flourish. You will be captivated by the stunning Elephant Valley, the vibrant Indonesian Jungle, the charming Pavilion of Penguins, the captivating Monkey Island, and the majestic African Savanna.
Beyond its breathtaking beauty, Prague ZOO plays a vital role in conservation efforts, contributing to the preservation of endangered species and promoting wildlife protection. A visit to this extraordinary place offers not just entertainment but also a chance to learn and appreciate the importance of biodiversity and animal conservation.
With its wide array of attractions and diverse animal exhibits, Prague ZOO is a fantastic destination for visitors of all age categories. Whether you are a wildlife enthusiast or simply seeking a day of exploration and wonder, Prague ZOO promises an unforgettable experience for everyone.
Come and be a part of this remarkable journey, where the well-being of animals and their natural habitats take center stage. Discover the magic and beauty of nature at Prague ZOO, where each visit contributes to a brighter future for our planet's wildlife.
3 U Trojského zámku 171 00 Hlavní město Praha Czechia
Monday10 am - 6 pm
Tuesday10 am - 6 pm
Wednesday10 am - 6 pm
Thursday10 am - 6 pm
Friday10 am - 6 pm
Saturday10 am - 6 pm
Sunday10 am - 6 pm