National Museum
National Cultural Monument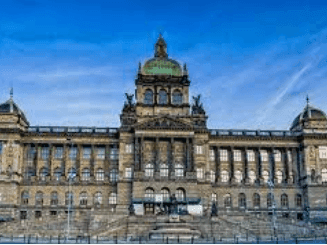 Discover captivating long-term exhibitions that chronicle the fascinating history of the Czech lands from the 8th century, offering a glimpse into the region's vibrant past.
Delve into the wonders of Prehistory and the Miracles of Evolution, where science and discovery come to life before your eyes. And for the music enthusiasts, explore unique exhibitions dedicated to Czech music masters Bedrich Smetana and Antonin Dvorak, celebrating their profound impact on the world of music.
As you explore the National Museum, you will also be captivated by the splendid architecture of the building itself. Dating back to 1818, the structure exudes historical charm and character, making your visit a truly immersive experience. Recently renovated to its former glory, the building combines the best of both worlds - a glimpse into the past and modern comforts for your enjoyment.
Embark on a journey of exploration and enlightenment at the National Museum, just moments away from our hotel, and enrich your stay with a profound connection to the cultural treasures of our country.
68 Václavské náměstí 110 00 Hlavní město Praha Czechia
Monday10 am - 6 pm
Tuesday10 am - 6 pm
Wednesday10 am - 6 pm
Thursday10 am - 6 pm
Friday10 am - 6 pm
Saturday10 am - 6 pm
Sunday10 am - 6 pm