Vysehrad
Living testament to the rich history and cultural heritage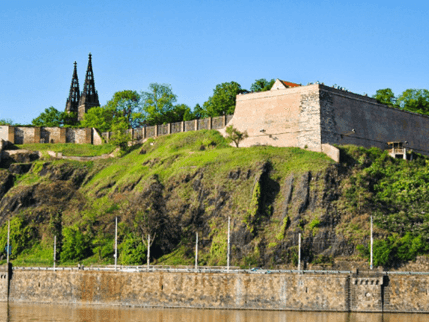 Exploring the park area reveals a wealth of hidden architectural treasures, each with its own unique charm. Among them, the rare Romanesque Rotunda of St. Martin stands as a testament to the past, while the neo-Gothic Church of Sts. Peter and Paul exudes a timeless grandeur.
The national cemetery Slavín serves as a place of remembrance and reflection, housing the final resting places of prominent figures from Czech history. For an extraordinary encounter, venture into the underground casements, where you will find some of the original Baroque statues from the renowned Charles Bridge.
Vyšehrad is a living testament to the rich history and cultural heritage of the Czech Republic, providing visitors with an unforgettable journey through time. Whether you are a history enthusiast or simply seeking picturesque views, this iconic site promises an immersive experience like no other.
Unravel the stories of the past and embrace the captivating allure of Vyšehrad's architectural wonders and stunning surroundings.
V Pevnosti Prague Czechia
MondayThe park is open 24/7 The buildings: 10 am - 5 pm
TuesdayThe park is open 24/7 The buildings: 10 am - 5 pm
WednesdayThe park is open 24/7 The buildings: 10 am - 5 pm
ThursdayThe park is open 24/7 The buildings: 10 am - 5 pm
FridayThe park is open 24/7 The buildings: 10 am - 5 pm
SaturdayThe park is open 24/7 The buildings: 10 am - 5 pm
SundayThe park is open 24/7 The buildings: 10 am - 5 pm